2017 state's official Christmas tree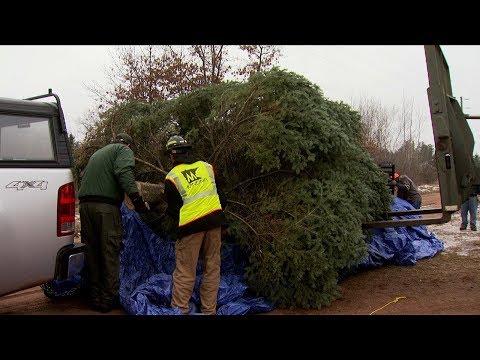 Cutting the state's official Christmas Tree.
For over 20 years, the state's official Christmas tree for the Governor's Residence is harvested from one of Minnesota's 59 state forest by DNR staff. The 2017 tree for the Governor's Residence is a 40- to 45-years-old white spruce from the General C.C. Andrews State Forest near Willow River. Each year, DNR staff assisted by Conservation Corps of Minnesota cut the tree on the Friday before Thanksgiving and transport it to St. Paul. But the search for just the right tree begins months before. DNR foresters look for a tall tree that's nicely shaped and well filled out. And the tree needs to be located in a place where it can be dropped without damage and easily pulled out for loading onto a long trailer. The 30-foot tree is set up on the front lawn of the Governor's residence the Monday before Thanksgiving. The tree will be lit Nov. 27 and remain up through the holiday season. While the outdoor holiday tree and decorations can easily be viewed from the sidewalk and street anytime, there are a few up-close tours in December.
What:

State's official Christmas tree at the Governor's Residence

When:

On Monday, November 27, the Minnesota Governor's Residence will light the tree and holiday decorations. The Residence will be open for public tours:

Tuesday, December 5 from 10:30 a.m. to 12:30 p.m.
Tuesday, December 12 from 5:00 p.m. to 7:00 p.m.
Tuesday, December 19 from 10:30 a.m. to 12:30 p.m

Where:

Governor's residence, 1006 Summit Ave., St. Paul

Who:

Everyone!
Each holiday season, half a million Christmas trees are harvested from private tree farms in Minnesota, contributing about $30 million to the state's economy. For each tree harvested, one to three trees are planted. Real Christmas trees store carbon during their lifespan, and they can be chipped and used for mulch when the season is over, making them an environmentally friendly choice. Watch a video of the tree cutting.
Visit the Minnesota Christmas Tree Association for more information about Christmas trees in Minnesota.